Web Resources
Web buttons are clickable and linkable icons designed specifically for National Penicillin Allergy Day. There are several button designs to choose from. 
To add a button to your website or blog, simply copy the HTML code provided to the right of the button, and paste into your existing website code. The button will link to the National Penicillin Allergy Day home page when clicked.
What are the benefits of posting a web button to my page?
Websites can be excellent platforms to provide awareness to your community on the value and availability of penicillin allergy testing. The buttons provide visitors to your page an easy way to access educational materials and learn more about false penicillin allergies and National Penicillin Allergy Day by hyperlinking directly to nationalpenicillinallergyday.com.
Where should I place the web button on my page?
You can post the buttons anywhere you'd like on your site. However, we recommend that you place it in an area on your site that your visitors frequent such as near the bottom of the web page where your social media channel icons are housed, or near your contact information.
When should I post the web button?
We recommend posting Web Buttons for the entire month of September, leading up to National Penicillin Allergy Day.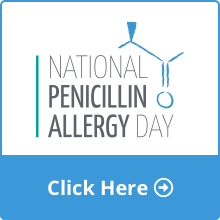 <a href="http://www.penallergytest.com/NPAD" title="National Penicillin Allergy Day Web Button - Square 200x161"><img src="http://nationalpenicillinallergyday.com/wp-content/uploads/CTA1.png" style="width:200px; height:161px; border:0px;" alt="National Penicillin Allergy Day Web Button - Square 200x161" /></a>

<a href="http://www.penallergytest.com/NPAD" title="National Penicillin Allergy Day Web Button - Round 200x200"><img src="http://nationalpenicillinallergyday.com/wp-content/uploads/CTA2.png" style="width:200px; height:200px; border:0px;" alt="National Penicillin Allergy Day Web Button - Round 200x200" /></a>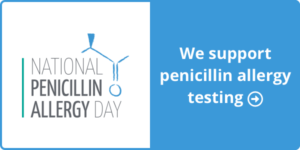 <a href="http://www.penallergytest.com/NPAD" title="National Penicillin Allergy Day Web Button - Click to Learn More 200x181"><img src="http://nationalpenicillinallergyday.com/wp-content/uploads/CTA3.png" style="width:200px; height:181px; border:0px;" alt="National Penicillin Allergy Day Web Button - Click to Learn More 200x181" /></a>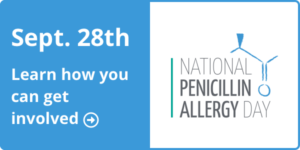 <a href="http://www.penallergytest.com/NPAD" title="National Penicillin Allergy Day Web Button - Click to Learn More 200x181"><img src="https://nationalpenicillinallergyday.com/wp-content/uploads/NPAD_CTA4.png" style="width:200px; height:181px; border:0px;" alt="National Penicillin Allergy Day Web Button - Click to Learn More 200x181" /></a>